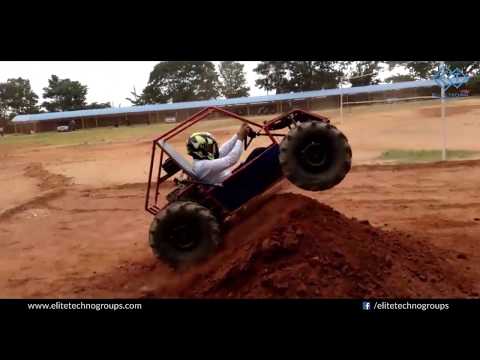 15 DAY INTERNSHIP ON ATV/ FORMULA STUDENT RACE CAR DESIGN & DEVELOPMENT
ABOUT THE COURSE
Course curriculum designed and guided by our reputed experts from Automotive companies like Mercedes, Polaris, Ashok Leyland, Tata, Mahindra etc.
Learn Industrial Practical Implementation of the theory you study in your academics by experiencing case study based learning and by fabricating a Gasoline/ Electric ATV/ Formula Student Race Car starting from dynamically calculating the exact specification of all the subsystems, validating your calculations by designing and analysis of the prototype on automotive software and fabricate it from scratch to analyze the designing limitations of your model, at the end RIGOROUS run of the vehicle performed by all participant to test its limits and to optimize its performance.
After the 15 Days Internship, Participant can opt for additional "15/30 Days Industrial Based Projects Internship" (no extra fee) and can complete it remotely from their college under the online guidance of mentors from top automotive companies research team.
Participants who successfully complete the project in the given deadline will be rewarded with the Industrial Internship Certificate of 15/30 days recognized by The International Organisation of Standardisation, United Kingdom.
DAY WISE SCHEDULE
Day 1: Automobile Static Engineering
In this part we will be discussing static parts of automobile that how each and every component works:
Fundamentals of chassis design - Tub chassis (recently used by koenigsegg Agera R), All Terrain Vehicle (ATV) chassis, Sports & passenger car chassis, torsional rigidity of chassis, lite weight materials, welding and joining process
Suspension system - Double wishbone suspension, Solid Axle suspension, Hotchkiss suspensions, 2 Four-Link suspensions, De Dion suspensions, Air suspension, MacPherson suspension, All Terrain Vehicle (ATV) suspension, suspension isolation
Braking system - Hydraulic braking, Wedge braking, Power assistance braking, ABS with EBD
Steering system - Hydraulic power steering, Electric steering, Worm & Sector, Four wheels turning
Engine working and fundamentals, Square engines, V cylinder engines, Power-Economy relations
Types of chassis, Braking, Steering, Suspension and their disadvantages and advantages

Day 2 to 7: Dynamic Calculations
In this part we will be discussing dynamics of automobile in deep and discuss how to balance all the components of a car:
Fundamentals of chassis design, Future vehicles materials technology, Chassis materials, Impact loading, Welding and joining process, Light metals for chassis, Smart materials, simulation of various types of chassis, Tolerance in designing, Bending strength calculation by using software

Braking system - Brake design methodology, Kinetic analysis of vehicle, Braking with a constant braking ratio, Brake forces, Aero drag, Rolling resistance, Driveline Drag, Brake performance parameters, Brake stopping distance calculations, Brake stopping time calculation, Combination valves, ABS with EBD, Brake disc heat dissipation theory, Brake Disc Designing, Braking efficiency, Weigh load transfer

Steering system - Steering dynamics, High speed turning, Low speed turning calculations, Four wheel steering mechanism, Turning radius calculations, Critical speed for turning, Over steering, Under steering, Ackerman principle, Rack and Pinion steering, Power steering, EPS, Steering torque, Caster, Camber, Kingpin, Caster trail, Steering kinematics, Steering damper, Tie rod length and position, Characteristics speed, Under-steer gradient, Cornering equations

Engine working and fundamentals - Abnormal combustion in spark ignition engines, Gasoline and Diesel additives, Ignition system overview, Ignition process, Ignition timing selection and control, Mixture preparation, Development of the three-way c catalyst, Durability, Catalyst light-off, Lean-Bum NOx-reducing catalysts, "DENOx, working and explanation of latest technologies like CRDI engine and many more

Transmission fundamentals - Friction clutches torque capability of an axial, Clutch uniform wear, Gear theory, Transmission power flows, Synchronizer operation, Van Doorne continuously variable transmission (CVT), Drive shafts, Hooke's joints shaft whirl, Transmission matching selecting the engine size and final drive ratio for maximum speed, Traction limited acceleration, Traction limits, Transverse weight shift due to drive torque, Dynamic axel loads

Suspension dynamics - Spring and Damper designing, Roll center calculations for different suspension mechanism, Roll Center Analysis, Wishbone suspension Roll Center calculation, Pitch/Bounce frequency, Suspension isolation, Suspension stiffness, Vehicle motion about the roll axis, Active suspensions, effect on cornering, Roll moment, Camber change, Roll steer
Day 4 to 7: Automotive Designing
This will be the implementation of the things that we will learn in above two parts:
Ergonomics considerations in designing of a car
Ride & handling consideration in design
Suspension lift point designing
Chassis designing and stress analysis
Thermal analysis
Basic as well as complex surface generation
Spring modeling
Steering, Braking & Suspension part modeling and assembly
Decaling and rendering of a vehicle
Sub-component assembly
B.O.M (Bill of material)
Designing of tire and rim
Tools & Commands of designing, features – weldments, sketch, evaluate, office products
Day 8 to 14: ATV Development & Fabrication
In this part participants will be fabricate from very scratch which all includes:
Roll cage profile generation
Development of roll cage fixtures
Roll cage welding and weld check confirmation
Roll cage suspension hard point adjustments
Development of Double Wish Bone Suspension
Development of E&T mounting frame
Attachment of sub-components holder
Engine mounting and it's tuning
Coupling of engine & transmission
Brake bleeding and installation of braking, steering assembly
Final vehicle assembly with all sub-components
(Steering, Braking, Suspension, E&T, Safety etc.)
Wheel assembly of front and rear drive vehicles, tire pressure calibration, cornering ability test
Graphic and Body works
Day 14 & 15: ATV Testing and Tuning
After complete fabrication, participants will do rigorous testing of the ATV and will optimize it's performance
Acceleration test by participants
Brake test
Cornering ability test
Vehicle endurance testing
Quiz for certificate of appreciation & Internship Opportunities
Industrial project allotment
Orientation session on "Career in Automotive Sector"
WHY JOIN THIS INTERNSHIP PROGRAM
Work with the best in the automotive industry.
"Certificate of Participation" for all participants issued by "ELITE TECHNO GROUPS" accredited by International organization for Standardisation, United Kingdom (U.K).
Automotive research-based industrial designing project allotment of 45 days to interested participants (no extra fee).
Complete technical support to all participants after the internship for research, paper presentations, participating in any race and design competitions (BAJA, FORMULA-SAE, Go-Kart, Electric/ Hybrid Vehicles, etc.).
Course Kit
Every Participant will get access to the ETG Library:
50+ E-Book on various subsystems on "Automotive Dynamics and Designing"  
Videos of dynamics and working of various types of engines, electric vehicles (motor, controller, battery), transmission, steering, suspension, braking, and chassis etc.
Tutorials videos for designing & simulations of automotive designing software for further references.
WHO ALL CAN ATTEND
The internship is designed for B.E/B.Tech - Automobile, Mechanical, Electronics, Electrical, Production, and Industrial engineering students.
Diploma Engineers interested in pursuing further studies on a part-time or full-time basis.
Automotive enthusiasts (undergrad & passed out's).  
Fees
Rs. 12500/- per participant including of all taxes, course kit, Industrial based designing projects internship, vehicle fabrication material & machinery, certification cost (no extra charges to participants for any activity during or after the training).
ACCOMMODATION AVAILABILITY
Accommodation & Foof facility is available at an average cost of Rs. 300 per day nearby to the venue. (No compulsion to participants to take accommodation).