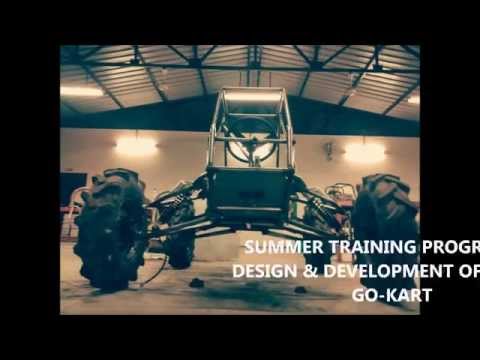 2 Day - Automotive Dynamics
ABOUT THE COURSE
It is an intensive course in which we will you will learn about Static of Automobile Engineering, & Dynamic Balancing of subsystems of race vehicles. 
Course curriculum designed and guided by our reputed experts from Formula 1 and Automotive companies like Polaris, Ashok Leyland, Tata, Mahindra etc.
DAY WISE SCHEDULE
Day 1: Statics of Automobile Engineering
Fundamentals of chassis design - Chassis torsional rigidity, Bending stress, stiffness and FOS (factor of safety)
Types of chassis, Braking, Steering, Suspension their disadvantages and advantages
Chassis dynamics - Racing car chassis V/s loading vehicle chassis, Tub chassis (recently used by koenigsegg Agera R), Carbon fiber monocoque and Tubular space frame chassis
Engine working with latest technologies - Intake design, Aspiration of engine and effect on performance, Brake horse power, Speed and power relation
Transmission, CVT, Manual, Gear Ratio and Gear selection criteria
Power economy graph - RPM-power relation and Torque effect on transmission
Day 2: Dynamic Calculations
Braking performance parameters, Hydraulic braking, Air braking, Electric braking, Regenerative braking system, Brake disc designing and Master cylinder pressure calculations
Steering dynamics - Steering ratio, Steering effort and Steering wheel size effect on steering gear box
Earth fixed coordinate system - Static & dynamic load distribution, Lateral load transfer, Critical speed, Cornering equation and Cornering forces
Steering system - Derivation turning equation, Ackerman principle, Understeer and Oversteer
Designing parameters for suspension - Balancing of chassis, Rigidity to weight ratio optimization and stress analysis
Suspension and steering relations in designing - Steering mechanism effects on suspension, Formula- suspension case study, suspension mechanics and suspension travel at different terrains
Why to Join
Learn from the best in the business including former Formula-1 Racing Marshalls.
Preparedness for race and design competitions organized by renowned automotive competitions such as BAJA, FORMULA-SAE, Go-Kart, Hybrid Vehicles, etc.
"Certificate of Participation" for all participants issued by "ELITE TECHNO GROUPS", a team of Formula 1 Racing Marshalls, accredited by International organisation for Standardisation, United Kingdom (U.K).
Top 5 scorer will be rewarded with "Certificate of Appreciation" and will be provided Internship opportunitiesin top notch Automotive Companies.
Course Kit
Every Participant will get a DVD containing 32 e–books, dynamic calculations of different type of vehicles, videos tutorials of complex subsytems for further references. 
Who Can Attend
The internship is designed for B.E/B.Tech - Automobile, Mechanical, Electronics, Electrical, Production and Industrial engineering students.
Diploma Engineers interested in pursuing further studies on part time or full time basis.
Automotive enthusiasts (under grad & passed out's).  
Fees
Rs. 1390/- per participant including course kit and all taxes (no extra charges to participants for any activity during the training).