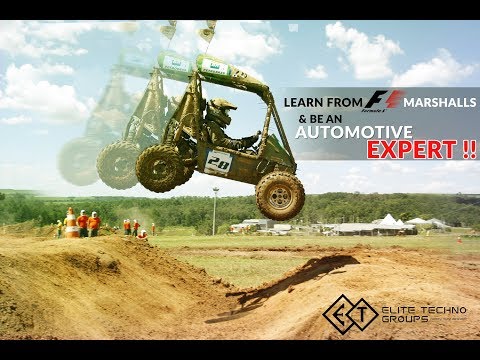 5 Day - Automobile & Vehicle Dynamics
ABOUT THE COURSE
It is an intensive course in which we will you will learn about Static of Automobile Engineering, & Dynamic Balancing of subsystems of race vehicles. 
Course curriculum designed and guided by our reputed experts from Formula 1 and Automotive companies like Polaris, Ashok Leyland, Tata, Mahindra etc.
DAY WISE SCHEDULE
Day 1: Automobile Static Engineering
In this part, we will be discussing static parts of the automobile that how each and every component works:
Fundamentals of chassis design - Tub chassis (recently used by Koenigsegg Agera R), Formula-1 chassis, sports & passenger car chassis, torsional rigidity of chassis
Suspension system - Double wishbone suspension, Solid Axle suspension, Hotchkiss suspensions, 2 Four-Link suspensions, De Dion suspensions, Air suspension, MacPherson suspension
Braking system - Hydraulic braking, Wedge braking, Power assistance braking, ABS with EBD
Steering system - Hydraulic power steering, Electric steering, Worm & Sector, Four wheels turning
Engine working and fundamentals, Square engines, V cylinder engines, Power-Economy relations
Types of chassis, Braking, Steering, Suspension and their disadvantages and advantages
Day 2 & 3: Dynamic Calculations
In this part we will be discussing dynamics of the automobile in deep and discuss following:
How to balance all the components of a car
Steering dynamics for designing & balancing of a race and off-road vehicle
Turning equation, cornering equation, cornering forces, driveline torque
Braking performance parameters - Balancing of brakes for a race and off-road vehicle
Calculation of steering efforts & wheel size, Gear ratio, Steering ratio, Ackerman percentage, Low & High speed turning, self-steering, four-wheel steering
Derivation of turning equation - Balancing of steering system for commercial and race vehicles(case study on balancing of race and off-road vehicle steering system)
Designing of hydraulic braking system, Brake pressure, Mechanical forces, Brake disc designing parameters, Heat dissipation, Required brake torque, Braking distance and time calculation
Suspension, Spring types, and calculations, Dampers, Single tube dampers, Vehicle ride & handling, Roll gradient, Anti-roll bar stiffness, Damping curve, Critical damping, Roll center calculations for different type of suspensions, wheel rate, motion ratio, frequency calculations
Transmission matching, Selecting the Engine Size and Final drive ratio for maximum speed 1st gear, 2nd, 3rd, 4th & 5th gear, Reverse gear calculation, Vehicle acceleration calculations, Van Doorne Continuously Variable Transmission, Torotrak Continuously Variable Transmission (CVT)
Day 3 & 4: CAD Designing
This will be the implementation of the things that we will learn in above two parts:
2D drafting and annotation with smart dimensions
3D designing and 3D sketching of Race car/ Off-road chassis
3D Part modeling of engine components
Rendering tools, Chassis designing parameters - Designing & balancing of engine components
F.E.A – stress analysis on piston/ Block/ Crankshaft/ Race car chassis/ Off-road vehicle chassis
Engine performance parameters, Engine emission norms, Engine design parameters, Engine fuels
Piston, Crankshaft, exhaust manifold and Intake manifold cad designing
Assembly of engine parts, Tuning parameters discussion, Mean effective pressure, Brake horsepower, Fuel consumption, Valve & Ignition timings, Volumetric efficiency
Designing of subsystems according to calculation basis to increase performance
Day 5: Hands on Experience (Practical Session)
Practical Session on MPFI Multi Cylinder I.C. Engine (How to convert commercial engine into performance engine):
Hands-on Experience - Assembly and Disassembly of MPFI multi-cylinder 4 stroke I.C. engine
Basic terminologies related to designing parameters of engine
Intake manifold tuning for performance engines
Introduction to "Engineering Design and Race Competitions"
Orientation session on "Scope of Automobile Sector"
Career guidance program
Quiz for certificate of appreciation & Internship opportunities
WHY TO JOIN
Learn from the best in the business including former Formula-1 Racing Marshalls.
Preparedness for race and design competitions organized by renowned automotive competitions such as BAJA, FORMULA-SAE, Go-Kart, Hybrid Vehicles, etc.
"Certificate of Participation" for all participants issued by "ELITE TECHNO GROUPS", a team of Formula 1 Racing Marshalls, accredited by International organization for Standardisation, United Kingdom (U.K).
Top 5 scorer will be rewarded with "Certificate of Appreciation" and will be provided Internship opportunities in top-notch Automotive Companies.
Course Kit
Every Participant will get a DVD containing 32 ebooks, dynamic calculations of different type of vehicles, videos tutorials of complex subsystems for further references. 
WHO ALL CAN ATTEND
The internship is designed for B.E/B.Tech - Automobile, Mechanical, Electronics, Electrical, Production and Industrial engineering students.
Diploma Engineers interested in pursuing further studies on the part time or full-time basis.
Automotive enthusiasts (undergrad & passed out's).  
Fees
Rs. 3100/- per participant including course kit and all taxes (no extra charges to participants for any activity during the training).